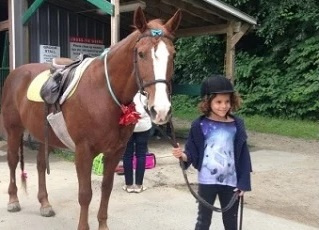 North Shore Equestrian Centre offers week-long, partial-day beginner camps during the months of July and August for riders 7 years old and up that aim to introduce new riders to horses and build a their skills starting from the ground up in a safe and encouraging environment.
Each camp is 5 days, running from Monday to Friday each week during one of the following time slots in July/August for a total of 15 hrs per camp:
8:30am to 11:30am
12pm to 3pm
3:30pm to 6:30pm
Camps are have a maximum of 6 students per instructor and include an off horse learning portion as well as a 45-60 min riding portion during each 3 hour session.
Students require a boot with a defined heel and jeans, leggings or breeches. We have certified helmets for borrowing (non horseback riding sports helmets may NOT be used)
2023 Summer Camp Rate
$700.00/camp
REGISTRATION WILL OPEN ON APRIL 18 AT 12PM
ON THIS PAGE
This camp is for any student who has not had any formal lessons previously. Students are taught safety, grooming, working around the horse, leading, and how to tack up and untack. Riding lessons include learning how to mount, correct positioning and control of the horse in the walk and trot.
Advanced Beginner (Adv Beg)
This camp is for students who have completed one of our Introductory camps or has completed a series of previous lessons. Students should be able to tack up, have good control at the walk and have trotted on their own. Riders will continue to concentrate on the basics of good riding position, basic aids, and improved control at the trot. Riders may expect to repeat the Advanced Beginner level a couple times before they are ready to move on to the Novice level.
This camp is for students who have previously enrolled in 3-4 week long camps or completed 3-4 months of consistent weekly formal lessons and are confident at the trot. Lessons will focus on increased control, starting to canter, and two point position as well as new stable management skills. Riders may expect to repeat the Novice level a couple times before they are ready to move on to the Advanced Novice level.
Advanced Novice (Adv Nov)
This camp is for students who have been riding in regular weekly lessons for at least 1 year and are cantering confidently on their own. Teaching will focus on strengthening control, balance and positions of the riders, introduce pole work as well as new stable management skills.
Once a camp has been confirmed, if you must cancel your camp for any reason, we will make every attempt to re-book with another rider from our wait list. If we are successful you will not be charged for the cancelled camp. If we are unable to fill the space by the start of the previously confirmed camp, you will be charged the full cost of the camp and a credit of 75% of the full camp price will be placed on your account to be used towards lessons during the fall term or a future Summer Camp at NSEC.